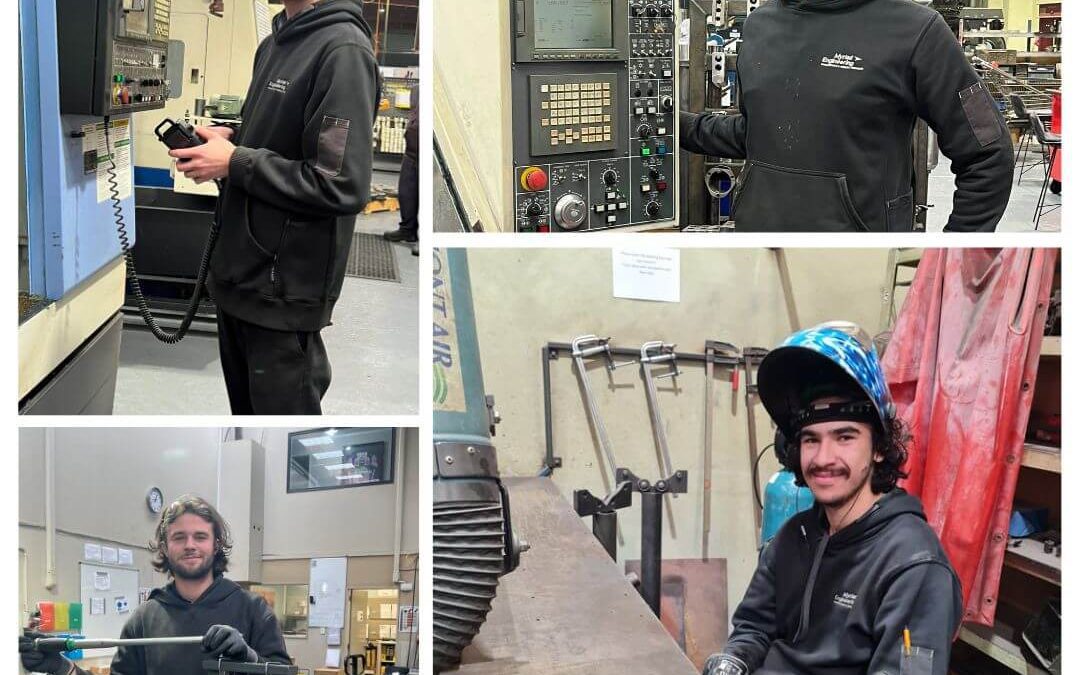 We are always keen to help young people get a trade in engineering
Upskilling young people today has real benefits in building a strong workforce for the future. We'd like to introduce you to our apprentices. Meet Matt, Alastair, Connor and Fraser, who are at various stages of their training.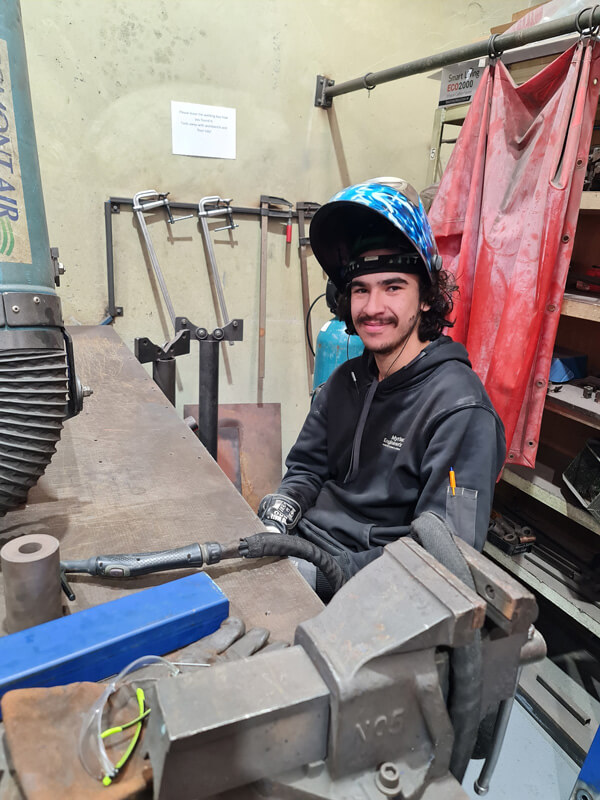 Engineering has been a change in direction for Matt. Previously working on a dairy farm in Rotorua, he has found his calling at Myriad Engineering.
Matt was first exposed to engineering through his father, who owned a lathe and Matt's interest in creating and building things stayed with him. When his father showed him the job advert at Myriad, Matt travelled from Rotorua where he was living, to Wellington for the job interview. While visiting Myriad, he found he enjoyed the interactions he had with Myriad's team and it opened his mind up to the scope of work and possibilities in engineering. Matthew hasn't looked back and enjoys being on the tools and expanding his skillset every day.
Also pleased to be back in Wellington after spending his first 16 years here, in his spare time Matt is finding some great places to continue enjoying his outdoor pursuits of hunting and fishing.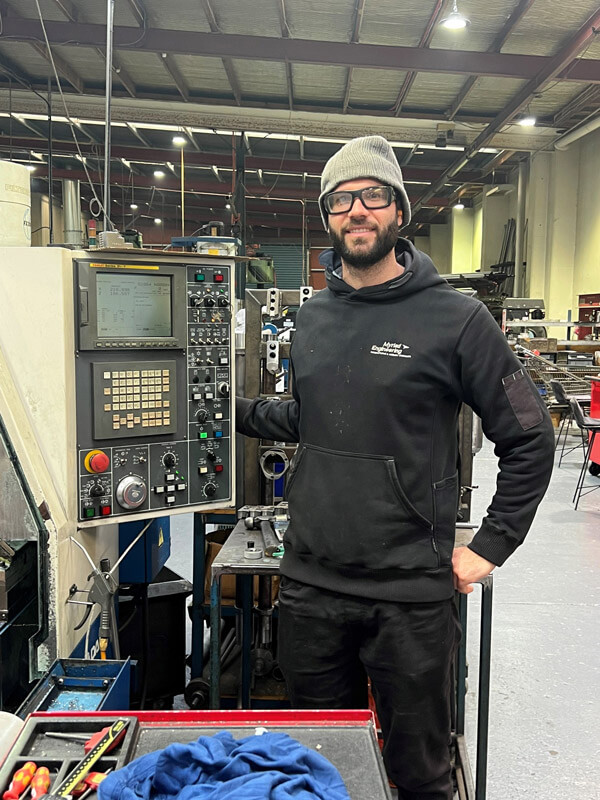 Alastair has been with us at Myriad Engineering for five years.
While he has had other jobs prior to working at Myriad, for Alastair it's engineering that has kept his interest. He finds the work interesting and it's always different. He also reckons "the managers are pretty cool" (thanks Alastair!) Alastair works on the CNC lathes and when he's not hands-on at work, he is tackling his own house maintenance. He's recently painted his own home and stripped the inside walls to add insulation then plaster and paint over the top. He also likes working out and keeping fit and enjoys woodwork too.
Alastair likes to try new things. He even lived in Antigua for two years and picked up the local dialect.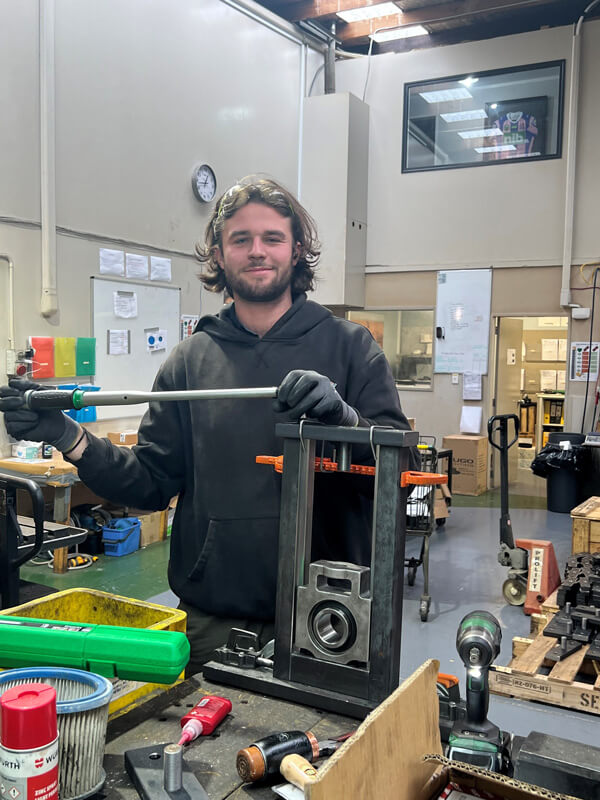 Connor joined us as an apprentice in January 2023, following on from undertaking a pre-trade course the previous year.
While the pre-trade course was a mix of machining and fabrication, Connor especially enjoyed the machining side. Connor's grandad was an engineer and had his own workshop, so an interest in machines and making things began early for Connor and stuck with him.
When Connor first visited Myriad Engineering, he was struck by the "good vibe and how nice the people were", so when given the opportunity of an apprenticeship, he jumped at it. Connor is doing a lot of machining and CNC work, which he really enjoys.
In his spare time Connor likes working on his car and replacing parts on his computer to keep it up to spec for gaming.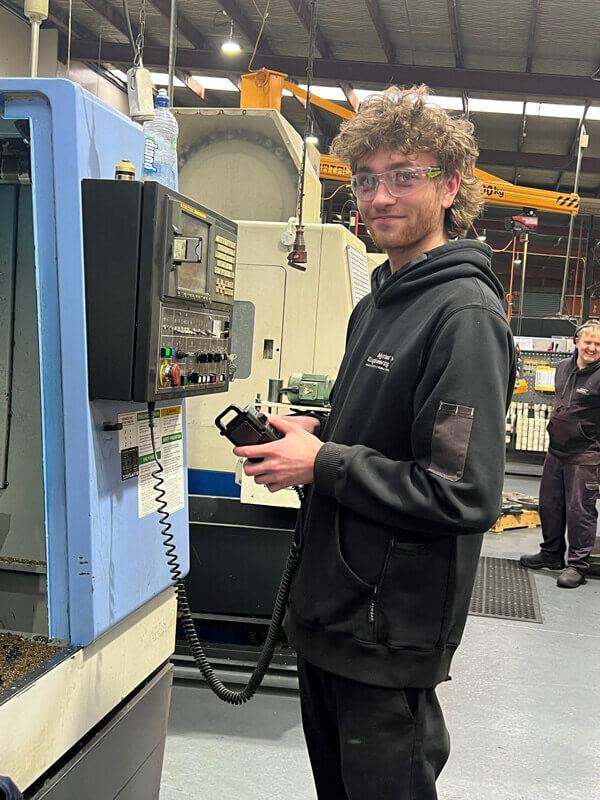 Fraser started his apprenticeship with us in July 2021. He was already familiar with Myriad Engineering, as he'd previously been working here during his school holidays.
This gave him an inside look at the engineering trade where he discovered he enjoyed working with machines. With welding, machining and other skills in the mix, Fraser believes engineering is a great trade to have and he finds he can transfer the skills he learns at work to projects outside of work, which is a real bonus. Fraser enjoys the challenges of his job and believes it is the perfect mix of teamwork and solitary work. He likes the quality control aspect too of making sure work is of a high standard.
When he's not out socialising with his mates, he'll be working on growing his own vegetables. Right now he's got broccoli, lettuce, spring onion and basil on the go.
Are you interested in an engineering apprenticeship?
Keep an eye on our social media pages. As vacancies become available you'll see them posted there, or on our vacancy page. We may have more opportunities in 2024.